Winter pavlova with toffee Clemengolds
Woolworths is committed to sustainability via our good business journey. Seasonal (and other) products might not always be in stock.
12 free-range eggs, separated
660 g caster sugar
Ingredients aren't specified.

For the topping:

12 ClemenGold Mandarins
100 g sugar
Cream, for serving
Woolworths lemon curd, for serving
Preheat the oven to 120°C. Place the egg whites into a very clean bowl. Beat until frothy, then gradually add the sugar. Beat until the meringue is thick, white and a glorious mass. Using a large spoon, dollop onto a large baking tray lined with a silicone baking mat (I use a Silpat) or greased baking paper. Spread out into a circle and make peaks up the sides. Bake for 3 hours.
For the topping, gently fry whole peeled clementines in 100 g sugar until caramelised. Serve with lemon curd and cream.
Alternatively, top with poached peaches: Cut a cross in the bottom of 12 peaches. Place them, with 400g caster sugar, 3 cups verjuice, 1 halved vanilla pod and 4 bay leaves in a deep saucepan. Cover with a piece of greaseproof paper and tuck it in around the peaches. Simmer for 20 minutes, or until soft but still whole. Remove the peaches using a slotted spoon and simmer the liquid until reduced. Slip the skins off the peaches and put them back into the liquid. If you like, add a dash of rose-water, to taste. Set aside to cool slightly.
Serve the meringue topped with the peaches and dolloped with yoghurt.
SHOP THE INGREDIENTS: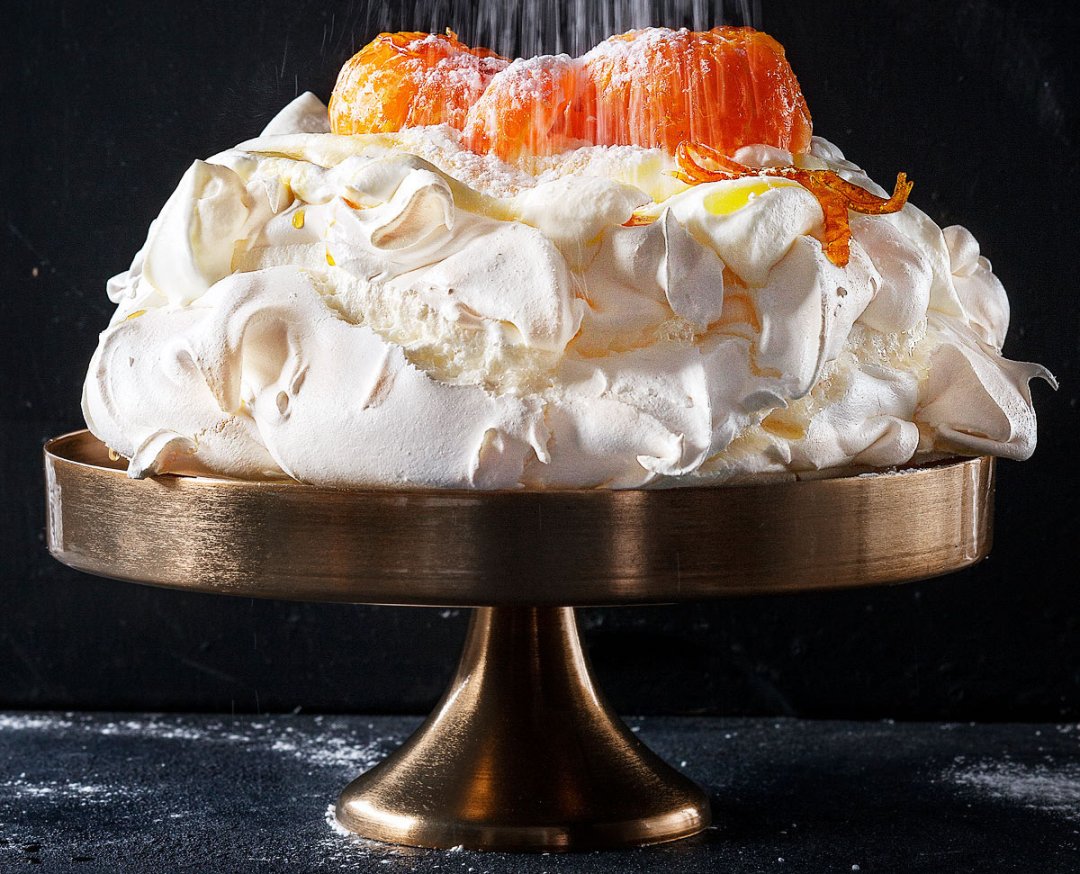 DISCOVER MORE SWEET TREATS HERE